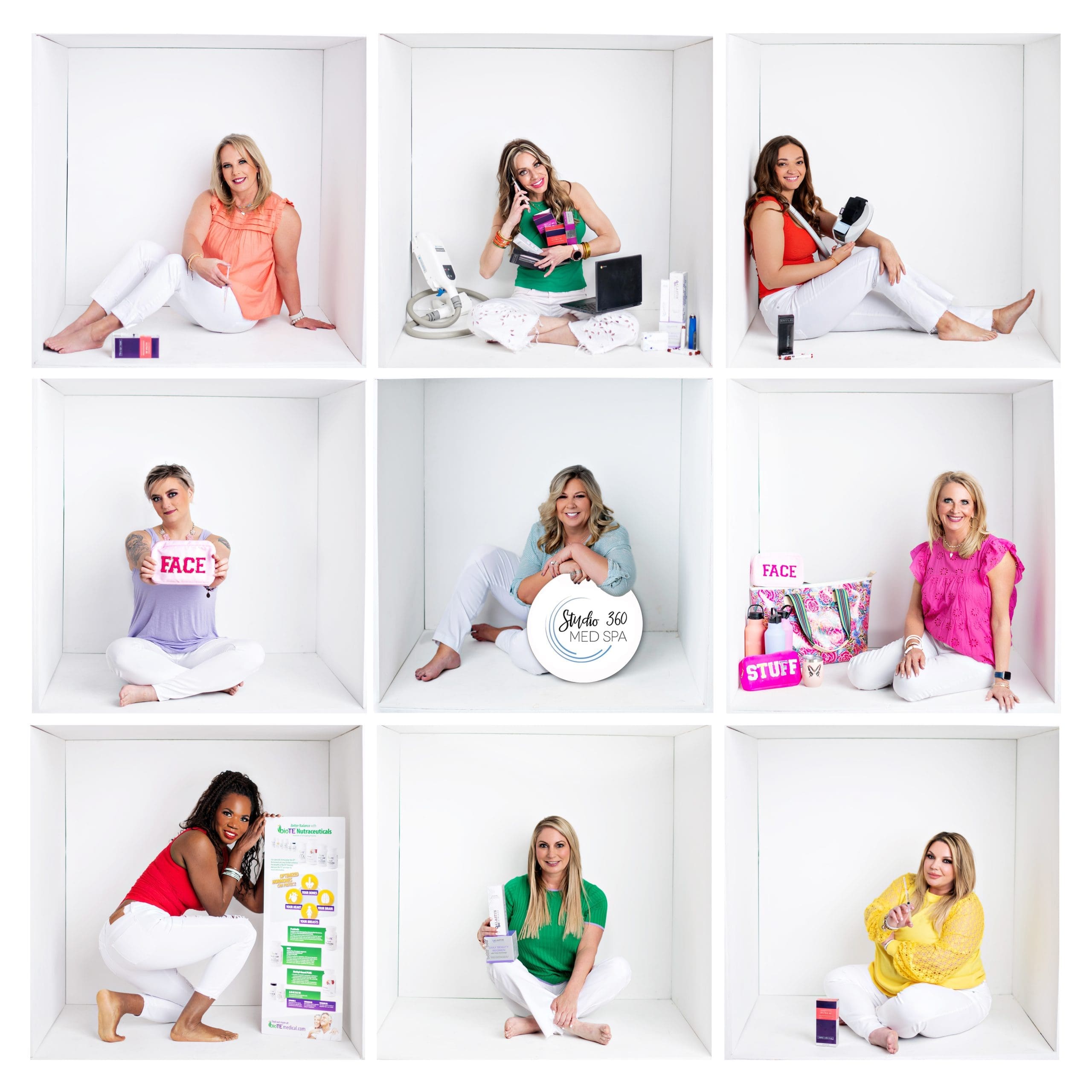 Welcome to Studio 360 Med Spa!
At Studio 360 Med Spa, our skilled team stands at the intersection of beauty and wellness, offering a diverse array of services categorized under four main sections: Injectables, Skin Treatments, Body Treatments, and Health & Wellness treatments.
We offer injectable treatments, such as Wrinkle Reducers and Dermal Fillers. Our Skin Treatments focus on improving your skin's health and vibrancy, while Body Treatments, like CoolSculpting, aim to shape and enhance your physical contours. Lastly, our Health & Wellness treatments encompass a broad spectrum of therapies designed to enhance overall well-being, including hormone therapy.
We understand the importance of individuality in beauty and wellness, thus every treatment is meticulously tailored to your unique needs. Visit us at Studio 360 Med Spa, and let our dedicated team guide you down the path to radiance and self-confidence!
"Love Michelle! So patient and attentive!"
Brandi S.
So Patient & Attentive!
"Great place. Stephanie is so professional and did a fantastic job with my facial and my daughters Botox. Highly recommend her and the spa."
Debbie J.
Fantastic Job with My Facial
"I LOOOOVVVVEEEE Studio 360!!!!! I always enjoy a great facial. Stephanie is amazing! My skin looks great!"
Diane C.
My Skin Looks Great!!
"This med spa is beautiful! The staff is so kind and knowledgeable! Princess is the best!! I will be back!"
Holli E.
The Staff Is So Kind & Knowledgeable
"Best Med Spa ever!! All the ladies are so sweet and so knowledgeable about everything! I trust them with all I do there ! I've had injections and lasers, and I shop the boutique weekly because there is always something new and unique! They always lead me in the right direction and don't sell me something I don't need! They keep my face glowing and natural. It's my home away from home!"
Jana R.
My Home Away from Home!
"Stephani is now dubbed as my fairy godmother. She is amazing at what she does. Friendly. Professional. Knowledgeable in her information. All around amazing experiences with her. Stephani is helping me look younger and feel better! 100% recommend this Spa and Stephani."
Jennifer V.
Stephani Is Helping Me Look Younger & Feel Better!
"Love love love everything about Studio 360 Med Spa! The moment you walk in they are attentive to all your needs, questions and concerns. Help to determine what is best for you as an individual. Recommend 100%!!!"
Joy M.
Recommend 100%!!
"Can't say enough wonderful things about this place. Very professional and amazing staff and my procedures have been awesome!!!"
Kathy H.
Very Professional & Amazing Staff
"Studio 360 is amazing from treatment options to client care. Princess is the best there is in terms of addressing clients needs!"
Katie G.
Studio 360 Is Amazing
"Princess is the best! She's very knowledgeable about what she does and makes sure she knows what your goals are. She made my lips look exactly how I wanted and was very caring the whole time as I was nervous. Will be going back and would definitely recommend this Med spa to anyone wanting to look their best."
Katie S.
Made My Lips Look Exactly How I Wanted!
"Studio 360 is a very professional yet comfortable spa, perfect for the seasoned med spa customer as well as the newbie! They take lots of time to educate and explain every single step!"
Kelly H.
Very Professional & Comfortable Spa
"Amazing Hydrafacial with Chanel!!! She was a pleasure and kind and sweet – but amazing results!!!! Highly recommend!!"
Kelly W.
Amazing Results!!!! Highly Recommend!!
"AMAZING EXPERIENCE! After pregnancy I had quite a few breakouts … nothing beats a fresh and clean face with an amazing scenery. See You Soon Stephani"
Laci N.
AMAZING EXPERIENCE!
"Love this place!!! I finally found somebody that can do a awesome job on my Botox treatment!!"
Laura D.
Love this place!!!
"Stephanie did an amazing job on filler and Botox!! The location is very inviting."
Laura Lynn S.
Amazing Job on Filler & Botox!
"Amazing staff! Always make you feel so welcomed! Love their products!"
Molly T.
Always Make You Feel so Welcomed!
Schedule Your Appointment Today
Meet Our Team
Outstanding Care from an Extraordinary Team
Our team at Studio 360 Med Spa & Boutique is committed to providing high-quality beauty & wellness services to residents in Highland Village and the surrounding areas.
Studio 360 Med Spa
2300 Highland Village Rd #300
Highland Village, TX 75077, United States